I have been amazed over the first 10 months of my diaconate how many people have asked to speak with me about their faith life. It is very humbling to have the chance to share in the journey of so many good people. I have to say the number one thing we discuss is their fear of whether they are living their lives in a fashion that pleases God and will result in eternal life.
I want to reread two parts of scripture from our readings today.
The first comes from our second reading. "God, who is rich in mercy, because of the great love he had for us, even when we were dead in our transgressions, brought us to life with Christ — by grace you have been saved — raised us up with him, and seated us with him in the heavens in Christ Jesus."
The second reading comes from the Gospel. "For God so loved the world that he gave his only Son, so that everyone who believes in him might not perish but might have eternal life. For God did not send his Son into the world to condemn the world, but that the world might be saved through him."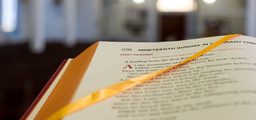 I would ask that you keep these in mind as I go forward. I would like to share a story about how I have come to realize the love God has for me. I tell this story as an example and not to be boastful.
As many of you know I am a judge. At least for a short time yet. I was originally elected in 2000.
Shortly after my election, I discovered there were hearing I would be asked to hear called Jane Doe's. Explain.
I felt I had to do the job I was elected to do.
At the time, I did not have a strong faith. We attended church but I didn't have a personal relationship with Jesus Christ.
I listened to the information and I signed off on the application allowing the young lady to pursue the abortion if that is what she decided to do. Not sure if she followed through or not.
Over the following weeks, I began to think more and more about my decision and it started to impact my ability to sleep, eat, and carry on my daily life.
I had a good friend who was a Baptist Minister and I ran into him at Pizza Hut one lunch hour.
He could tell I was distressed and he asked if he could join me for lunch. We talked and I explained my situation. He knew I was Catholic and suggested I go to my priest for reconciliation.
This meeting was the week I was scheduled to attend Cursillo. God works in funny ways. During the weekend, I had the chance to go to reconciliation. I had not been to reconciliation since my confirmation. I'd say it was about 25 years.
The priest was incredibly gentle with me and told me I was absolved of my sins. I couldn't believe what he was saying. We then talked about what I could do to ensure that I never participated in this type of sin again. The next week, when I returned to work, I informed the other 5 judges I was no longer going to conduct Jane Doe hearings. To my surprise, 4 others followed suit.
Unfortunately, the story doesn't end there. I continued to feel the guilt and the shame.
I talked to a deacon friend about this continuing guilt and shame. He looked me straight in the eye and said to me, Tom, do you think your feelings of guilt and shame are stronger than the mercy and forgiveness of God. Wow, that hit me between the eyes. I can be a slow learner at times.
After that discussion, I started to realize the love that Jesus has for me. In my human condition, I couldn't understand the complete and overriding love God has for me, and all of us. The cross of Jesus is real. And if it means anything, it means we must be willing to accept the fact that God loves us so much that there is nothing we can do to destroy that love. God loves us unconditionally.
But don't be fooled. We have a part in this as well. We must truly ask for and seek the mercy of our God to see eternal life. We also have to try to live in God's grace. God knows if we are truly sorry for our sins. As Catholics, we believe this happens through the Sacrament of Reconciliation. It is not enough to simply go into the woods and tell God your sorry for your sins. We believe that the confessional is needed to restore our relationship with God. If we put our sins at the foot of the cross, we can have eternal salvation with our loving God.
So, during this time of Lent, make your life right with God. Take the opportunity to go to reconciliation and get a fresh start. And believe that God loves you unconditionally and he has already given us the grace we need to be with Him for eternity. We are harder on ourselves than we need to be. We are human, and as humans, we need healing from our sins from our loving God. There was no price for that grace. I leave you with this message from February 28, my daily devotional book, Jesus Calling. I read this on the day I wrote this Homily.
By: Deacon Tom Gritton