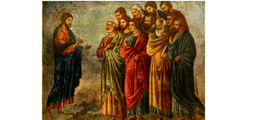 In our Gospel reading today we get further revelation of Jesus' identity. He uses the title "Son of Man." There can be no doubt by now that Jesus is no ordinary Rabbi. Still the disciples are confused. It is helpful to remember that this entire section in Mark's gospel is framed at the beginning and end by accounts of blind people who are given sight. This stark image of going from blindness to sight is a great clue for us. As the blind man is given sight, however gradually, so the disciples, who are blind to Jesus' mission and identity, are given sight, though slowly. Knowing and not knowing, understanding and not understanding are woven throughout the Gospel of Mark. From Jesus' question, "Who do you say that I am?", to the transfiguration, to Jesus explaining yet again what lies ahead for the Son of Man. And still the disciples do not understand. This is not a new role for disciples. Throughout Mark, they are the knuckleheads who just don't get it.
Well, let's not be too hard on the disciples. We are often in this confused state of mind as to what God has planned for our lives. I'd like to share a time when I was seriously questioning the Lord and His plans for me. In early 2001, I was contacted by an FBI agent who told me they were now investigating me in regards to the illegal conduct of my former boss. He told me that he wanted to speak with me to determine if I was involved in the illegal behavior as well. Not the call you want to get at 8:30 in the morning.
I knew I had done nothing wrong, but the process played out publicly for over two years. There were people who were saying I was "guilty as hell" and belonged in prison with my boss. I did not understand why I was being put through these trials. I wanted to blame God and was questioning His love for me. It was a two-years of anxiety and confusion. Finally, both the FBI and the State of Wisconsin Department of Justice cleared me. Of course, that did not make the front page of the newspaper like the other stuff did.
Why do I tell you this story? I was like the disciples in today's Gospel. I didn't understand what Jesus was doing to me.  The disciples were slow learners. But so was I.  Unlike the disciples, I had the advantage of the entire life story of Jesus. We have to get out of this mindset that our God is a punishing God. He loves us. He died for us. Now, that doesn't mean we will not have some trials and tribulations in our lives. After all, if our Lord went through His passion for our sins, can't we take on some battles along with Him?
Nevertheless, be assured, He will always be there to help us through these difficult times. Although I cannot explain why, I know that this experience made me a stronger person and even a stronger and more faith filled Catholic. During this time, my Catholic friends and family were incredible and always there for me. They did not judge. They only loved me and were great servants of the Lord to me.
If you're like me, you have also been watching the turmoil going on in the Catholic Church right now. Thursday we were told that our beloved Bishop Morneau requested to be removed from his public ministry for failing to report to authorities an incident of priest sexual abuse in 1979. Bishop Ricken has granted the request.
As a Catholic, I am asking myself why the church is going through this strife? I think it is like the confusion the disciples were going through in the Gospel today. We have many people judging the whole Catholic Church and the clergy. Again, as a member of the clergy, I feel like I am being judged for something I am innocent of. Just like those who were judging me as guilty of something I never did in the early 2000's. We have to remember, we are not the judge. There is only one Eternal Judge, Jesus Christ.
I think it is important to remember, the church is only an organization made up of sinners. We come here every weekend as sinners to worship our Savior Jesus Christ, not the organization. Jesus tells us in today's Gospel, "If anyone wishes to be first, he shall be the last of all and the servant of all." So, let's not spend our time trying to convince ourselves that we are the greatest among all of us, but let's spend our time being servant leaders spreading the Gospel of Jesus Christ.
You may be asking yourself, how do I become a servant leader spreading the Good News? I submit to you we cannot be those people who are continually judging others and the way others live their lives. To spread the Gospel we must:
Live our lives imitating Jesus.
Love those who hate us.
Help those who can't help themselves.
Forgive those who trespass against us.
It does not matter the sin, we need to be forgiving merciful people to those who are sincerely asking for our forgiveness. Jesus' entire ministry was about relationships, not just when it was easy, but especially in those difficult times. It was a ministry of mercy towards all sinners. Is this easy, no. Nobody said being a Catholic Christian would be easy. So, when people ask why you continue to go the Catholic Church, I suggest to you the answer is easy. Tell them:
I love Jesus Christ, and I need Jesus in my life.
Tell them how important it is to receive Jesus in the Holy Eucharist.
Tell them no one else has ever given up their life for my sins.
Let's not be confused. This is a time to be strong and resolute, but also to be merciful and loving. It's a time for us to join together as the Christian family we are and live as children of God.
God Bless You.
By: Deacon Tom Gritton