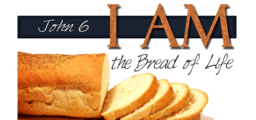 What do you think about before you come forward for communion? During Communion? After Communion? I have asked many people these questions. I am not really looking for them to explain to me what they are thinking about, but really just want them to ponder it. I was asked these questions many years ago and I couldn't really answer them for myself. So, I don't necessarily want you thinking about it right now, because then you won't be listening to my Homily. However, when you have time over the next few days please sit down in a nice quiet place and think about your answers.
I have come up with my answer over the years. It changes depending on what is happening in my life. I have two general rules. First, I always ask for the Lord to be with me as I receive Him. Second, I ask the Lord to help me become more like Him in how I live my life. This is the part that can change week to week. I ask myself some simple questions. Is there a relationship I need to mend? Is there someone hurting that I need to reach out to? How do I need to work on myself in some way over the week? This is how I use the quiet time after I receive. Truly, receiving Christ in the Eucharist should be more than just eating and drinking. What does this gift really mean?
I think the disciples and followers of Christ are a bit confused in today's Gospel. They are fixated more on what Christ is asking them to do rather than on what He wants to give them. They cannot get past his invitation to eat the flesh of the Son of Man and drink his blood. They even quarrel, saying, "How can this man give us his flesh to eat?" Why can't they focus on what He is promising them?
Christ is offering them eternal life, and they do not hear Him. He even spells it out for them in five different ways in today's Gospel:
One, "Whoever eats this bread will live forever."
Two, "Whoever eats my flesh and drinks my blood has eternal life, AND I will raise him on the last day."
Three, "Whoever eats my flesh and drinks my blood remains in me and I in him."
Four, "…so also the one who feeds on me will have life because of me."
And five, "…whoever eats this bread will live forever."
But all they hear is "unless you eat the flesh of the Son of Man and drink his blood." Our nature as human beings is to focus more on what we have to do rather than why we are doing it. Let's not make the same mistake.
What Jesus is describing is a deep intimacy with God. What Jesus shares with us in Communion is His divinity. If we imitate Christ in our relationships with others, it would be as if we were giving our flesh, our blood, our very lives, just as Jesus did. Are we prepared to live our lives imitating the life of our Lord? By taking His flesh and blood into our bodies – we agree to allow Jesus to walk with us every day. If we want to be inspired to follow in Christ's footsteps, we need to take the time to process exactly what we are doing when we receive Jesus.
Jesus also tells us, "I am the bread of life; whoever comes to me shall not hunger, and whoever believes in me shall never thirst."
This is a phenomenal statement! Why?
Because Jesus is likening Himself with bread, Jesus is saying he is essential for life.
The life Jesus is referring to is not physical life, but eternal life. Jesus is trying to get the Jews' thinking off of the physical realm and into the spiritual realm. He is contrasting what He brings as their Messiah with the bread He miraculously created to feed the 5000.
Jesus is making a declaration of His divinity. This statement is the first of the "I AM" statements in John's Gospel. The phrase speaks of God's self-sufficient existence, which is an attribute only God possesses. It is also a phrase the Jews who were listening would have automatically understood as a claim by Jesus that He is also God. A phrase we need to also understand that Jesus is telling us He is God.
Notice the words "come" and "believe." This is an invitation for those listening to place their faith in Jesus as the Messiah and Son of God. This invitation to come is found throughout John's Gospel. Coming to Jesus involves making a choice to forsake the world and follow Him. Believing in Jesus means placing our faith in Him that He is who He says He is, that He will do what He says He will do, and that He is the only one who can.
There are the words "hunger and thirst." Again, it must be noted that Jesus is not talking about alleviating physical hunger and thirst. The key is found in another statement Jesus made in the Gospel of Matthew. Jesus said, "Blessed are those who hunger and thirst for righteousness, for they shall be satisfied." When Jesus says, those who come to Him will never hunger and those who believe in Him will never thirst, He is saying He will satisfy our hunger and thirst to be made righteous in the sight of God.
I always tell our Eucharistic Ministers of Holy Communion what a privilege it is to provide Jesus to those coming for Communion. What a grace filled gift Jesus is giving us every time we receive His body and blood at Holy Communion. We literally take Jesus into our bodies and He becomes one with us. This oneness allows us to be better people. More Godly people. Let's not overlook this beautiful opportunity as often as possible. When we leave here today, Jesus leaves within us. Let's use His presence to be more like Him.
If there is anything the history of human religion tells us, it is that people seek to earn their way to heaven. This is such a basic human desire because God created us with eternity in mind. How do we make it to heaven?
I submit to you that we must accept that Jesus is the Bread of Life by living our lives for Jesus and like Jesus. I am asking that you take time over the next few days to make your plan to receive Jesus. Think about what you will be thinking before, during and after. Remember, Jesus is the Bread of Life. He nourishes us both physically and spiritually.
God Bless.
By: Deacon Tom Gritton