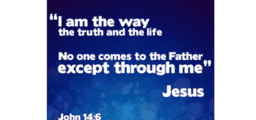 A few years ago in his homily, I remember Father Larry telling us about his reliance on his Garmin which is commonly known as a GPS for directions. He told us that he follows the directions of the Garmin to a T, afraid of getting lost if he doesn't. This reminds me of our Gospel reading today. Jesus tells us that He is the Way, the Truth, and the Life. As we journey through our earthly lives in the midst of our problems and difficulties, sufferings and pains, to the House of our Heavenly Father, we just have to follow Jesus, just like Father Larry follows his Garmin.
But Deacon Tom, the Garmin tells us exactly when to turn and which direction. I'd say, so does Jesus. If we take the opportunity to create a relationship with Jesus by praying to Him, talking and listening to Him, we will be given very specific directions, just like the Garmin.
I know I have often strayed from the directions from my Garmin, and before long, I am lost. Fortunately, the Garmin recalculates for me to get me back on the right path. I also find there are times I stray from God's path for my life and before long, I am feeling lost and disconnected. This tends to happen when I think I know what's better for me than God does. I then need to recalculate my spiritual Garmin.
In today's Gospel, at the time Jesus is addressing the Apostles they are at the Last Supper and Jesus has already told them about the betrayals of both Judas and Peter. The Apostles must have been very confused because Jesus was talking in a very different way than they had ever heard before. Jesus had been with the Apostles for three years by this time and they had seen him teaching and working among the people. Jesus tells them, "Where I am going you know the way." Thomas, my favorite Apostle, the man who likes to questions everything, protests, "Master, we do not know where you are going, how can we know the way?" Thomas is clearly looking for geographical directions just like we get from our Garmin's. (Thomas had no Garmin.) We can be grateful to Thomas for drawing out of Jesus one of the great sayings of the Gospels, "I am the way and the truth and the life. No one comes to the Father except through me."
So what do we make of this saying from Jesus? Let's break it down into parts.
"I am the Way" – We have to see Jesus as the road to our destination. The road allows us to take a journey. And the journey we are taking is to our Father's House. We make it to our Father's House by following Jesus.
"I am the truth" – Jesus is God's gift to us. This gift allows us to journey for the truth in our lives by imitating Jesus' life. To understand the truth, we must understand the life of Jesus. Jesus is the truth.
"I am the life" – This journey of truth gives us life. When we believe in Jesus, we find true life, and He becomes our life.
Following Jesus means different things for all of us. For me, I follow Jesus through being a husband, a father, a son, a brother, a judge, and a deacon. In our every day ordinary lives we can be those "living stones" talked about in our 2nd reading helping to build the "spiritual house" that God has created for us by simply living our lives to the best of our abilities.
However, we cannot follow Jesus in a vacuum. We live in a community. We must interact with people on a daily basis. Our journey involves those we come in contact in our daily lives, just like Jesus did.
The 1st reading today from the Acts of the Apostles provides an interesting milestone within the Church. The early Christian community was expanding its leadership structure by adding the seven men to assist the Apostles with the poor of their community. This is some times called the creation of the "Seven Deacons." Quite appropriate for today wouldn't you say. They were able to address the needs of their community. We have the same challenges today. Our trip to our heavenly kingdom brings many people across our paths. We have to put forth our best efforts just as Jesus did to bring those we love to our Father's Heavenly House. Jesus is our perfect example; but, how can He be our perfect example if we do not know him.
We are fortunate today; we have the actual Word of Jesus, the bible, to act as our Garmin. We just need to read it and listen to it. I would say further, we not only have to listen to it, we have to actually hear it, process it, live it.
Shortly, we will come to the table to share in the body and blood of our Lord. His sacrifice must also be a part of our journey. We cannot have a relationship and journey with Jesus without the spiritual nourishment we receive through Holy Communion. We must live His passion, death and resurrection to truly understand and love Jesus.
I think back to the opening of the Gospel where Jesus is comforting the Apostles. The Apostles are aware that Jesus is about to leave them and they are afraid. Jesus tells them, "Do not let your hearts be troubled." These are encouraging words from Jesus for all of us.
Jesus goes on to tell the Apostles, "Have faith in God; have faith also in me." Faith in God means accepting and facing reality. Faith can be hard in the difficult times of our lives. It means dealing with our problems knowing that even in the worst-case scenarios, God will never abandon us on our life's journey. A reassuring thought.   
Living a Catholic Christian life is really about living with Jesus in faith. Living our lives as disciples of God. Jesus promises us His eternal presence and a place in His Father's House, if we only believe in Him. That means committing our lives to the Lord. We have to let Christ be our Eternal Guidance System, every moment of every day. Just like Father Larry depends on his Garmin, let's all continue on our journey's today and follow our Eternal Guidance System, Jesus.
By: Deacon Tom Gritton