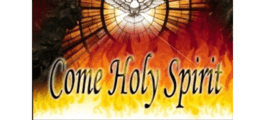 For many today, Pentecost has been reduced to an end – the end of the Easter season. Pentecost remains as mysterious as the Holy Spirit Himself. When we, as individuals, are emblazoned with the Holy Spirit, we bring an enthusiasm into the Church and into our community. Just take a look at the Apostles. After they received the Holy Spirit, they went from being frightened and locked in the upper room, to going into the world teaching about Jesus everywhere. Clearly, the Holy Spirit had created a new beginning for the Apostles. Pentecost should be a beginning for us to – a beginning for the Church born in the Spirit of God. It should be a beginning of a passion, strength, and tremendous trust in the Spirit of God.
The Holy Spirit must never be reduced to a thing, He is a person, a Divine Person, who loves us and wants a relationship with us. He is neither fire, nor wind, nor anything other force, He is the 3rd Person of the Most Blessed Trinity, who we can talk to, share with, listen to, and learn from.
So why do we struggle with the Holy Spirit? I think it is because we believe we must have a miraculous revelation to think the Holy Spirit is within us. This is a grave misunderstanding. These experiences are only one way to experience the gift of the Holy Spirit.
I'd like to share a Holy Spirit experience in my life. Lori and I built a house in 2001 and shortly after moving in, there was a storm that dumped almost 5 inches of rain. As the storm was finishing, I could hear what sounded like a river running into my basement. When I went downstairs I saw water pouring into my sump pump pit. I was immediately filled with an anxiety I had never experienced before. We discovered the builder had not put in a dam for the sewer lateral that lead from the street to the house. We were able to get the problem corrected and I thought the issue was resolved. Well, it was not. The next spring between the thaw and lots of rain it was doing it again. The anxiety immediately returned. Over the next 6 – 9 months the anxiety I had whenever it was going to rain increased. I became a part-time weather man.
So, by now I'm sure your saying, Deacon Tom what does this have to do with the Holy Spirit? I didn't recognize it at the time, but I now truly believe this was the Holy Spirit showing me that I cannot control everything in my life and I needed to turn it over to God. Shortly after this realization, I attended Cursillo and was on my journey to the diaconate.
We do not have to have the experience the Apostles had to be filled with the Holy Spirit. We just need to look in our everyday lives. You see, if we are looking, we will discover the Holy Spirit in the simple things in life. He is there, every day for us, 24/7. Today, the problem with my sump pump still exists, but by leaning on the Holy Spirit, those feelings of anxiety have been conquered.
Each of us is called to holiness and we all have gifts of the Holy Spirit to buildup of the Kingdom of God. In our second reading today, St. Paul makes a very important statement: "No one can say 'Jesus is Lord' except by the Holy Spirit." This means that it is God himself that enables us through the Holy Spirit to recognize the Lordship of Christ. Paul goes on to say, "There are different kinds of spiritual gifts but the same Spirit; there are different forms of service but the same Lord; there are different workings but the same God who produces all of them in everyone. To each individual the manifestation of the Spirit is given for some benefit." Find your gifts and use them to the best of your ability.
Today we celebrate a great feast, when Christ filled and equipped His church with the power of His Spirit and sent us out into the world to bring peace, unity, joy, forgiveness, and love.
In today's Gospel, Jesus tells His disciples when the Spirit of Truth comes, He will guide them to all truth. Clearly Jesus is talking about the Holy Spirit. This is what we need most in our world today, guidance to the truth.
What then will the Holy Spirit we have received help us accomplish? Will the Holy Spirit lead us into the kingdom of righteousness, peace and joy? Will the Holy Spirit lead us away from all that is evil and bring us to the fullness of life?
Reflecting over these questions is critical especially now that our world has become so challenging that one can hardly understand what is happening. Like shootings in high schools. It is sad to note that individuals, families, and communities are drifting apart. In a world filled with many difficulties and troubles, only the Holy Spirit can restore order and calm our fears. He alone can empower us to face the challenges of our lives, families, and communities. He alone can give us the insight needed to navigate through the complex seas of our daily lives.
We must stop and listen to what the Holy Spirit has to say to us and what direction He leads us. We must ask the Holy Spirit this Pentecost, to show us a new direction. Let us give the Holy Spirit more of a chance to support us in what happens in our lives, families and communities.
As we celebrate Pentecost this weekend, let's consider these two questions:
What do you want me to do, Holy Spirit?
Where are you leading me, Holy Spirit?
Listen and look for the Holy Spirit in your everyday lives. He is there to help each and every one of us! Recognize your sump pump experience each and every day.
By: Deacon Tom Gritton