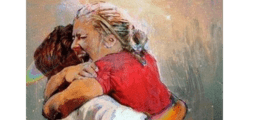 I remember back in 2001 Lori and I had just moved into a new house we had built with our two kids. There was a 100-year storm and the basement of the house ended up with water in it. Didn't think much of it because the large amount of rain we got so quickly. It continued to happen and that started the worrying and anxiety I had never encountered before. I remember feeling helpless and for some reason I didn't understand at the time, I made the choice to attend a Catholic retreat weekend called Cursillo. That small choice has changed my life forever!
One of the greatest abilities that separates humans from the rest of God's creation is our ability to recognize alternatives, to weigh options and their possible consequences and then make an informed choice. As we look back over our lives, we've made conscious and informed decisions about if and when we'd attend college, what career path we'd follow, we've made decisions about where to seek, or to accept, employment. We've made decisions about whom to marry, where to live, cat or dog, whether to rent or purchase, how to prioritize and budget our money and time… and the choices go on and on! And whatever big decisions we have made in our life, one thing is true – they have formed us into the person we are today.
Now, not all choices are as life changing as education, careers, friends and spouses! Yet, we can't deny that our daily lives are a series of choices made and then followed through. Some days it is easy to make choices and other days, it's all I can do to decide if I want white or chocolate milk. I've often joked with Lori that we should open a restaurant called "I Don't Care, You Decide" – most nights that is where we'd eat. By the time we get to dinner – we are both tired of making decisions and choices! And yet the options keep coming! Wouldn't it be great to occasionally have someone else that could step in and make all your decisions… (especially if they always made the RIGHT choice)?
Fretting over making the "right" or the "wise" decision is what makes making choices so exhausting.
From the beginning of Creation, people have had to make decisions. We all remember Adam and Eve's decision to go against the will of God. We to have made choices that lead us away from God. Choices that are outside of God's will for us.
Choosing who or what we serve is the most important choice in our lives. When we choose to lay aside the gods of the world, like pleasure, wealth, power and honor and serve Jesus, our lives are no longer lived for ourselves. Choosing to serve God changes the way we think, and it changes the way we live our daily lives. Choosing to serve God is not a choice to be taken lightly.
Choosing to follow God is a choice we must each make daily. The idea that we have to choose God each day always struck me as odd. But the more I thought about it, the more truth I see in it. Each day I am faced with choices I must make based on my commitment to live the life God desires for me. To profess God with my mouth and then betray Him with my actions – is not choosing to faithfully serve God. Eleanor Roosevelt once said, "One's philosophy is not best expressed in words. It is expressed in the choices one makes."
It was a little scary reading the Gospel today. You see, before I was ordained to the diaconate, I was required to plan out the Mass for my funeral. This was the Gospel reading I chose.
The bridesmaids in today's parable had to take responsibility for the decisions they made! Five of them made the decision to take extra oil. Five of them chose to take only the oil in their lamps. When the bridegroom was delayed, all ten fell asleep. And when the knock came on the door to begin the bridal procession, only the ones who had taken extra oil were able to participate in the celebration.
Now, much has been made of this parable. Questions about what the "oil" represents; questions about why the five who had oil didn't share with the five who didn't; questions about why the bridegroom didn't show mercy to the five without oil, since it was him who was delayed. But when we start picking this parable apart, we miss the main point of it! The message of this parable is simple – Be prepared!
Don't think we can put off until tomorrow the choice to live for Christ today… because we can't! The Kingdom of God is near and none of us knows the day nor the hour it will arrive. But until the glorious return of Christ, we are to be ready at a moment's notice to join the bridegroom in the wedding procession!
The bridesmaids weren't punished for not having enough oil. They were punished for losing focus and foolishly not being prepared for the bridegroom when he came.
Are we ready for the bridegroom's return? Have we made wise choices in our lives that have prepared us for the kingdom of God? If Christ came today, would we be prepared – or have we put off until later the choice not only to serve the Lord, but to serve him faithfully? Live today as if Christ is knocking on your door and requesting you to come. Live today, making wise choices that shape your life to be a faithful servant of God. As long as we are breathing there is time!
I know it is easy to become discouraged. It's easy to lose heart. It's easy to begin to question God's existence in those times when God feels so distant. It's easy to slip into a routine of unpreparedness.
That one choice I made in 2001 to attend Cursillo has lead me down an incredible journey to the diaconate. One small choice I made to attend Cursillo has changed my life forever!
Brothers and sisters, the time is now. Be prepared! For the Bridegroom stands among us, beckoning us to follow Him and join Him in the celebration of God's Kingdom. Choose today who you will serve.
The choice is yours… choose wisely.
By: Deacon Tom Gritton