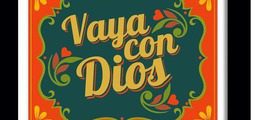 Years ago, a friend of mine stayed at the Beverly Wilshire for business, right off Rodeo Drive, steps away from some of the most exclusive and expensive stores in the world. The hotel is something of a legend. It may be most famous as the setting for the movie "Pretty Woman."
I have to tell you, I know he didn't really fit in. He's usually a Holiday Inn Express kind of guy. But he didn't make the reservations. And somehow, he managed to cope.
Anyway…The day he left, he was waiting at the entrance for the taxi to take him to the airport, and he noticed some writing etched into the pavement on the ground. It wasn't graffiti; this was part of the design of the hotel, carved into the stones.
He thought it probably said, "Caution" or "Pedestrian Crossing." But no. Instead, it carried a surprising, familiar message to those who were departing, words of farewell in Spanish:
"Vaya con dios."  Literally: "Go with God."
Probably the last three words you'd expect to see on a sidewalk outside a hotel in Beverly Hills. This is a classic Spanish goodbye—but also a kind of benediction. A blessing for all of us on life's journey. Thinking back on it all these years later, it occurs to me that those words mean more than we may think. They are more than just a way of wishing someone a safe journey. They make us realize this beautiful truth: We go with God because God goes with us.
And we have a reminder of that in what we just heard, Jesus's last words in Matthew's Gospel: "Behold, I am with you always, until the end of the age." Again, and again in scripture, Jesus tells us: do not be afraid. This is why. It is because God is with us. Always.
This particular Sunday, when we honor the Most Holy Trinity, is the perfect opportunity to remember that, to take comfort from it, and to refocus our lives to live in that enduring hope. A famous poem tells us, "The world is charged with the grandeur of God." And what grandeur it is! God the Father, who created us and everything around us. God the Son, who became us and redeemed us and taught us how to be what the Father intended us to be. And God the Spirit, our Advocate and our Comforter, who walks with us now and continues to "renew the face of the earth" with His abundant gifts.
The concept of the Trinity, this notion of God in three persons, is probably one of the most challenging mysteries of faith. Philosophers and theologians have wrestled with it for centuries. It has left even the most devout believers confounded. But we shouldn't be confounded. We should be stunned. We should be stunned…that God the Father who created us loves us so much that He became one of us, sending His Son into the world to live with us, to struggle with us, to weep with us, to bleed with us.
We should be stunned…that God the Son who took on our flesh also took on everything—the hunger in the desert, the nails in His hands, the betrayal and denial of those He loved.
We should be stunned…that a God who endured all that revisits us in the Holy Spirit to dwell with us throughout our broken history—bringing His gifts to a frightened and uncertain world. Gifts of wisdom and understanding, of knowledge and fortitude.
It should bring us to our knees. This is how much we are loved.
Three years ago, Pope Francis marked this feast by proclaiming that we are called to live out this love in the world. It is our missionary mandate. He said, "We are called, to live not without each other, over or against each other, but with each other." He continued saying that we should use the Trinity as our model, the model of a family— "to live in love mutually and towards all, sharing in joy and sufferings, learning to ask and to grant forgiveness," bearing witness to the Gospel.
It is a call that is holy and beautiful— and challenging. But it's a challenge we don't have to face alone. "Behold, I am with you always, until the end of the age." Our God is with us. He is with us when we feel lost. He is with us when we feel frightened. He is with us when our hearts are broken, when our strength is sapped, when the ground in our hearts is dry and it feels like nothing will grow.
Call on Him. Wait for Him. Listen for Him. He is there. And this morning, in a particular way, he is here. As we receive Him in the Holy Eucharist, we carry that sure knowledge and hope in our hearts — and receiving Him, we leave this place ready to carry his grace into the world.
It is the grace and mystery of one God in three persons —a love so vast, it leaves us humbled. It should also leave us profoundly grateful. If you don't believe me, just visit the Beverly Wilshire Hotel—an unlikely evangelizer in an unlikely place, but one that preaches to all who pass by something we need to hear.
We go with God. Yesterday. Today. And forever. Vaya con dios.
By: Deacon Tom Gritton