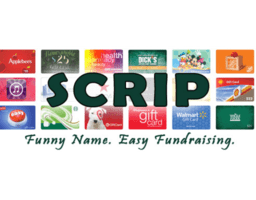 Scrip is available for purchase from the parish office! We have a good inventory of Festival, Pick 'n Save, Walmart, Woodmans, and Kwik Trip as well as others we keep in stock. Please call before you come to make sure that we have what you need. Current weekday office hours are Monday-Thursday from 9:00 am – 3:00 pm and Friday from 9:00 am – 1:00 pm.
In addition, SMCS and CFC families who have online Scrip accounts are encouraged to purchase ScripNow through www.shopwithscrip.com. Thank you for continuing to support the parish by using Scrip for your everyday purchases!
Do you have students registered in the St. Gabriel CFC program? Did you know that by purchasing Scrip gift cards you can earn credit to offset some of your tuition? CFC families earn 2% tuition credit on every Scrip purchase from in-stock purchases – for example: purchase $100 of gift cards (gas, grocery, etc.) and earn $2 tuition credit; $400 purchase = $8 credit. CFC families can earn a higher tuition credit for Scrip ordered online.
Ask Georgia in the CFC office if you are interested in learning more about this program and then watch your tuition savings add up! Other family members and friends can also earn credit for CFC families by purchasing Scrip gift cards. Just be sure to circle CFC on the Scrip and write in the family name to receive the credit! Don't miss this opportunity to reduce your CFC tuition bill!