Welcome to Summer in Wisconsin! Lucky for all of us, Church doesn't close in summer! While you are enjoying all the fun that summer has to offer, we hope you'll make time to visit your parish family and Jesus in the Eucharist! Summer Masses will remain at 4:30 on Saturday and 8:00 am, 10:00 am, and 5:00 pm on Sundays. Please also check out the many prayer opportunities and events we are offering this summer – there is truly something for everyone! We hope you'll join us around the altar, around the campire, or both! Friends and neighbors are always welcome.
If you have any questions, please feel free to call Sara in the Parish Office at 920-722-4914.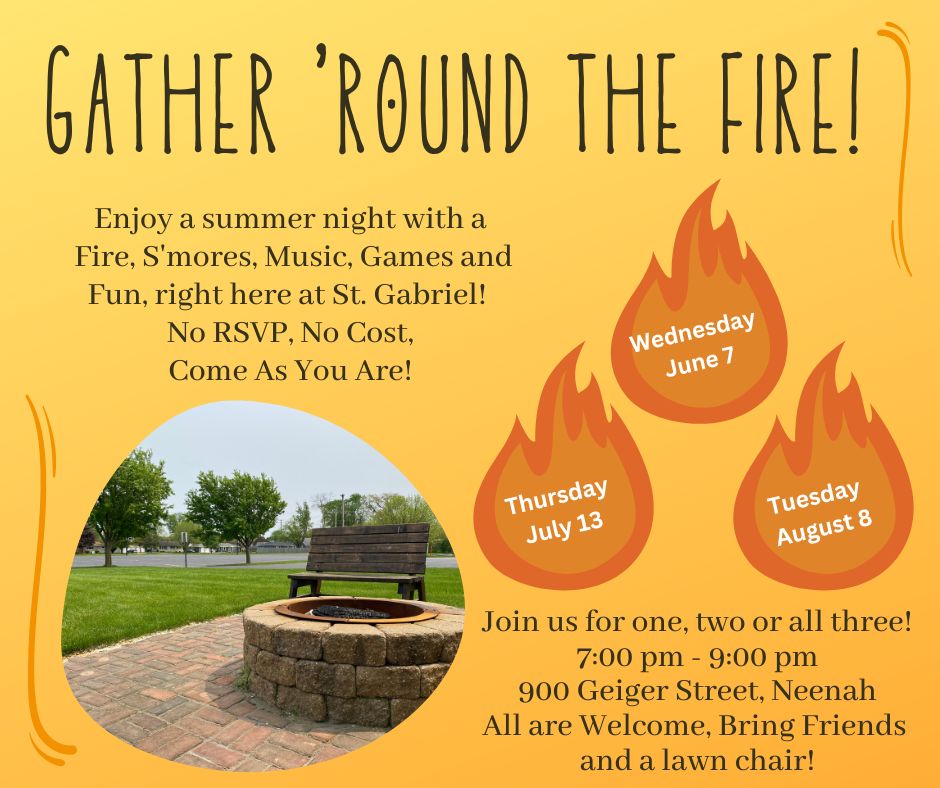 Come On Jesus, Light Our Fire!!!
June 7, July 13 and August 8, 2023
Join us for three fun nights, right here at the St. Gabriel Fire Pit! Located right on Geiger Street, we'll have a fire, outdoor games, S'mores, music and fun! Please bring a chair and bug spray if you need it! We can't wait to enjoy some summer nights with you – come to one, two or three nights! All are welcome on June 7th, July 13th and August 8th. We hope to see you there!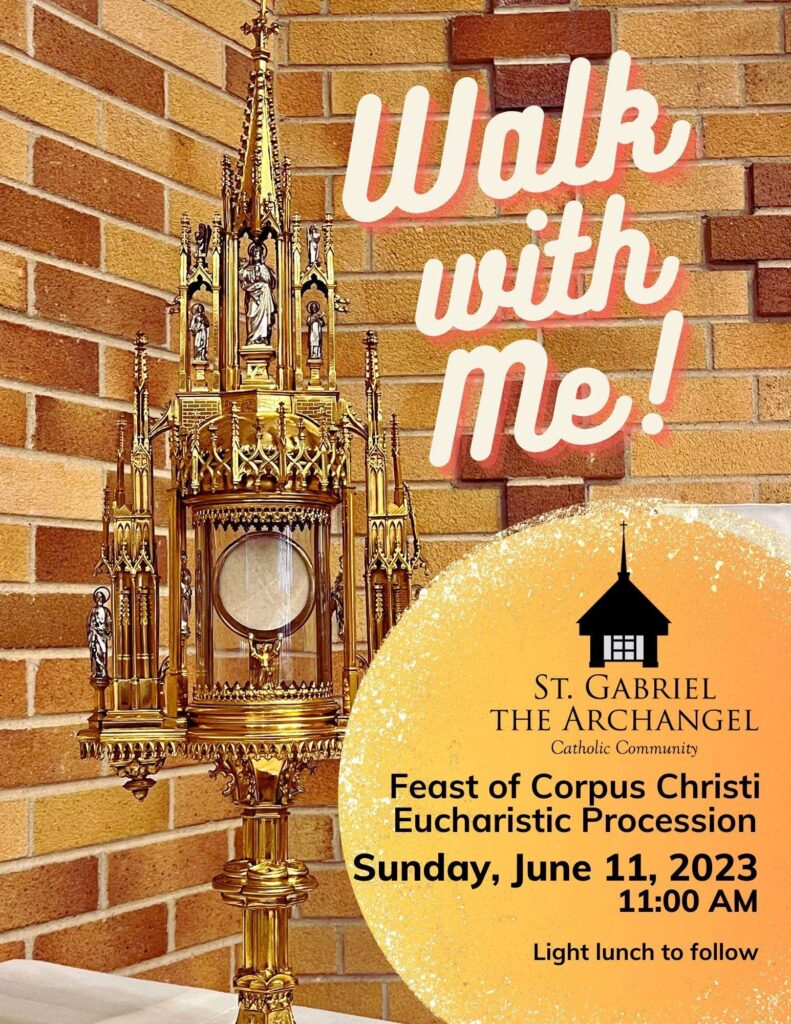 Corpus Christi Eucharistic Procession
Sunday June 11, 2023
Join us to celebrate the Feast of Corpus Christi on Sunday June 11th! Immediately after the 10:00 mass on Sunday, we'll have an outdoor Eucharistic Procession with a light lunch to follow in Stingle Hall. This is a beautiful devotion and witness to the True Presence of Jesus in the Eucharist. For more information about Eucharistic Processions and this beautiful tradition, please click here for a wonderful resource from the Knights of Columbus.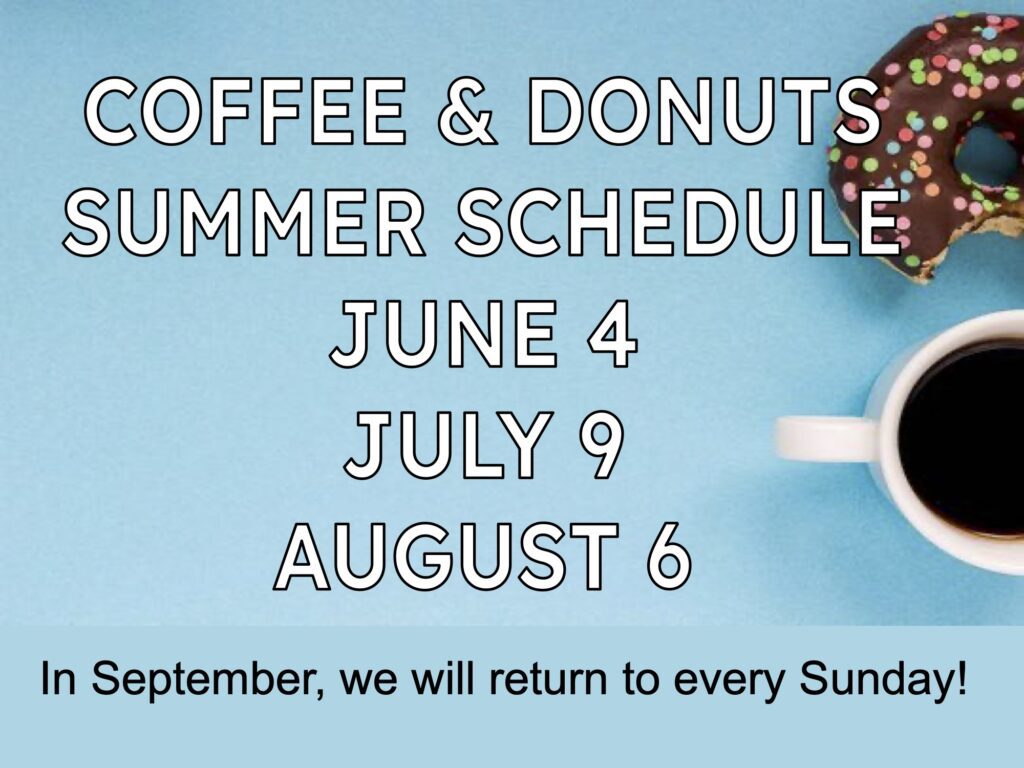 Summer Socializing – Coffee and Donuts After Mass!
Join us once a month in June, July and August after Sunday Masses to enjoy a cup of coffee and a donut. Catch up, share stories, and make a new friend! We are always looking for families or groups to host Coffee and Donuts! It's a fun and easy way to meet new parishioners! If you are intereted, please contact Sara in the Parish Office at 920-722-4914.
Youth And Family Events
BURN YOUR BURDENS Bonfire Night for Grades 6-12! Join us on Wednesday June 7th from 5:00 pm to 9:00 pm and bring your homework to BURN!! School's out for summer….but make sure you don't burn up something important!! We'll have dinner together, have lots of outdoor games available, and join the rest of our parish around the campfire for S'mores, Music and Fun. We'd love to see you there – please RSVP to Meredith at mlauer@smcatholicschools.org if you can make it (we don't want to run out of marshmallows!!)
Totus Tuus registration is Now Open! TOTUS TUUS is an incredible week of learning through Sacraments, prayer, music and fun for anyone in grades 1-12! Programming will be held at St. Mary Catholic Church in Menasha the week of June 25 – June 30th. Click Here to register online or download the form below to mail in.
If you are a trusty adult and awesome older youth, and you'd like to help out during the week of Totus Tuus, we'd love to have you! Please click here to see available volunteer opportunities.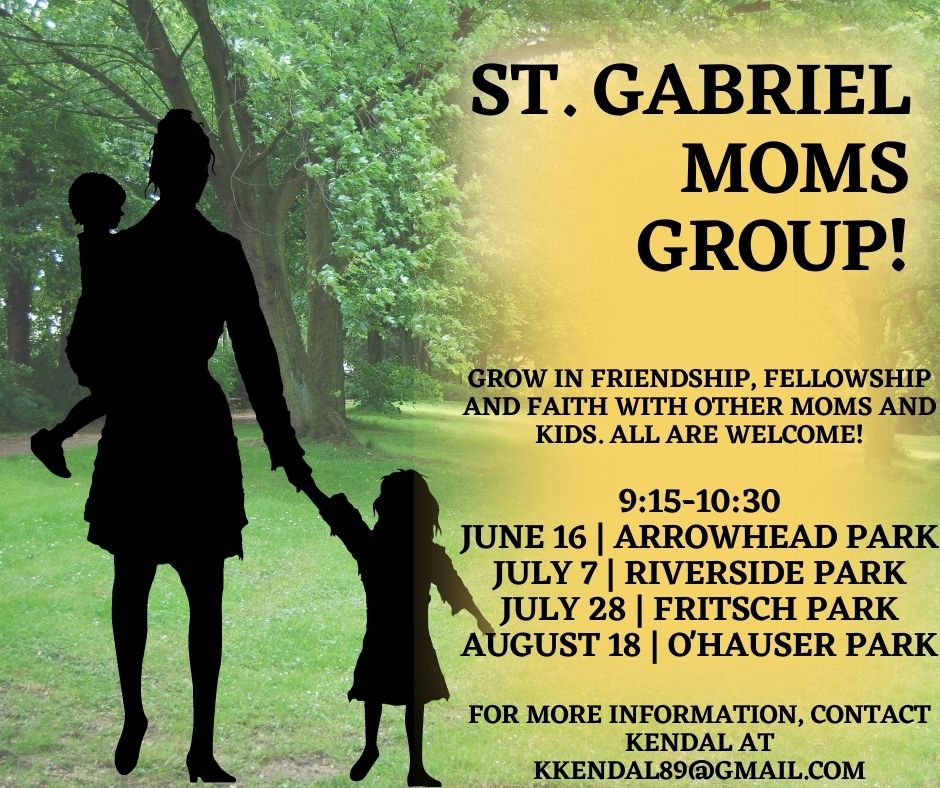 St. Gabriel Moms Group
All moms and their children are invited to join us for some fun in parks around town! It's fun to discover new places, and it's even better to meet other families! There is no cost and no RSVP, we'd just love to see you there! If you have any questions, please contact Kendal at kkendal89@gmail.com
St. Gabriel Night at the Ballpark!
Wednesday July 5, 2023 – 6:40 pm Game Time
Join your St. Gabriel Parish friends and family for a fun night at the Timber Rattlers Stadium!! If you have never seen a weiner dog race…..it's worth the price of admission!! Each ticket includes a reserved seat, a soda and popcorn, and of course company that can't be beat! It's also 10 cent hot dog night! Click Here to purchase tickets online. A limited amount of tickets are also availabe in the Parish Office. We hope to see you there!